The Project Pulse Barometer (PPB)
Project Performance – A Less Than Satisfactory Report Card
Despite extensive implementation and change management efforts, projects in many organisations consistently produce business outcomes well below expectations.
56% of organisations have disclosed they have experienced failed major projects in the last 12 months (KPMG)
30% of projects fail based on a survey of Fortune 100 companies (Hackett Group), and in relation to Information Technology projects,
Failed IS/IT projects are estimated to cost the US Government $145B/annum (Standish International Group)
'The CIO may not own the problem but is most at risk because of it. ' (Gartner)
Consequently many business leaders report a lack of confidence in the discipline and those associated with it and the scenario depicted below is, for some, increasingly common.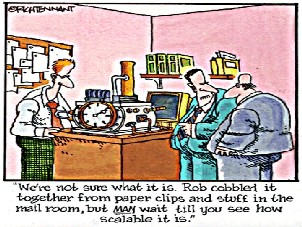 Change Management
These project failures have resulted in businesses investing considerable resources, time and money in change management activities. The discipline of Change Management is concerned with two different systems and their interaction :
The Tangible (or Formal) System
The Intangible (or Informal) System
governance and risk,
business strategy alignment,
stakeholder analysis and positioning,
visioning and end state definition,
change strategy and guiding principles
communications
position descriptions
processes and procedures,
training and skills development
integrated change plans and KPI's

personal attitudes, beliefs and basic assumptions
business culture
leadership style
power and influence
information and impressions
team & work group norms
emotional and personal drivers
relationships between team members
relationships between teams
In a large review (2500 organisations involved) of project failures, we identified the following as key causes of project failure :
| | | |
| --- | --- | --- |
| Cause | Tangible | Intangible |
| Insufficient sponsor commitment and engagement, | # | # |
| Insufficient Line Management buy in. Responsibility allocated but not realised in practice, | | # |
| An inability to surface and work with intangible, soft, cultural issues, (eg the introduction of a work order control system in an environment where people hold the belief that 'it is OK sometimes to cut corners to get the job done quickly') | | # |
| Critical 'informal' opinion leaders not engaged | | # |
| A lack of visible connection between the project and the central strategic imperatives of the business | # | |
| Misinformation : The impressions people form about the project are based on erroneous, incomplete or misinterpreted information, | | # |
| An inability to engage the 'silent majority' of the workforce, | | # |
| Project driven by Project Team, not the business | # | # |
| An inability to engage the 'silent majority' of the workforce, | | # |
| The application of 'blanket' change interventions | # | |
All too often the inability to surface and work with these intangible factors results in the following scenario.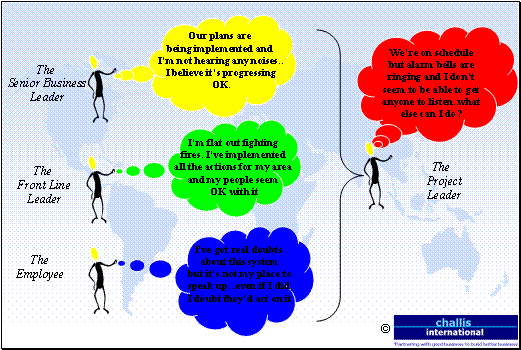 Enter : The Project Pulse Barometer
The Project Pulse Barometer (PPB) is an innovative, easy-to-use, cost-effective approach that measures the critical intangibles most managers have to either guess at, or call in cumbersome, costly and time-consuming survey research, requiring specialist interpretative skills and knowledge. The PPB makes information on key intangibles available at all levels of any organisation. It helps to create a high trust work environment where real issues, expectations and concerns are brought to the surface, worked through by the people affected by them, and resolved. However it is much more than this. The Project Pulse Barometer taps into a wellspring of intuitive and discretionary emotional energy, making possible a whole new level of project excellence.
The Project Pulse Barometer may be used to :
provide a regular window into the health of a project
assist with the management of significant upheavals such as mergers and acquisitions, divestment or outsourcing
provide Business Managers with a tool to evaluate the effectiveness of actions taken to engage and align their workforce
provide Discipline Leaders (eg IT) and Project Managers with a tool to help hold Business Managers accountable to deliver on commitments made
evaluate the effectiveness of the Business & Project partnership
create a focus on the critical things that matter at the various stages of the Project
surface and shift behaviours and beliefs associated with the project
identify areas of the business in need of support and track the effectiveness of actions taken

The Project Pulse Barometer is therefore much more than a surveying tool. While the PPB scans an organisation for fast, accurate information on those intangibles essential for top-class Project Management, it has been designed to be much more. The PPB incorporates an approach designed to keep an organisation energised and more able to break out of established paradigms. It is configured to focus an organisation's leadership around the things that really matter within their field of influence or control
Pulse questions used in the PPB are typically combinations of :
key questions found through research and experience to be fundamental indicators of Project health (eg 'There is a real sense of urgency in our business to implement Project XXX', 'I have been sufficiently consulted on Project XXX requirements') which may be tracked over the life of the project
and/or
questions to explore, challenge and change perceptions, attitudes and/or beliefs on project issues with the workforce that have high face validity and that are relevant to the particular stage of the project. (eg. calibrate/test business expectations : 'I believe that Project XXX will reduce our inventory by 25%'. Check effectiveness of training/support provided : 'The training provided me with the skills I need to be confident to use Project XXX' and 'I am satisfied with the level of Project XXX support available to me')
Summary of Key Features…
A powerful tool to generate energy and facilitate dialogue – flags issues and starts conversations to explore changes, impacts and opportunities,
Provides information to identify and drive improvement opportunities at multiple levels - organisational wide through local; work group,
May be fully customised (language/terminology, question set focus, proforma and report formats and apprearance, security etc) to meet organisational specific requirements
Results presented in dashboard format (eg traffic light) to readily identify key areas for improvement with drill down functionality to explore and issues and trends,
Questions focus on organisation-relevant factors creating strong face validity with respondents and users; that is question set customised to user requirements/situation,
Minimal respondent effort with no 'behind the scenes' administration effort,
Simple and user friendly questions and data format; immediate feedback,
Information 'owned' by Line Managers/Workgroup promoting localised accountability to act,
Web browser based ensuring that there is only 'one version of the truth',
Simple graphs used to promote intuitive understanding,
May include security provisions to restrict access,
Can be used in conjunction with more detailed analytical tools and diagnostics administered over longer timeframes
View/Complete Project Pulse Barometer Proforma Example,
View Project Pulse Barometer Summary Results Example,
View Project Pulse Barometer Detailed Results Example
Want to know more about the Project Pulse Barometer, please contact us